Just like humans, cows need sufficient amounts of clean drinking water every day. Water is very essential in their body functions such as digestion, production, and lactation.
Freshwater intake also helps cattle in avoiding diseases. Aside from the quality of water, choosing the right waterers for cattle is also very important.  
What are the best cattle waterers? The best cattle waterers are those sold by well-trusted names such as Little Giant, Ritchie Industries, Inc., Behlen Country, among others. Their automatic cattle waterers are durable, efficient, and can fit your cows' needs. They are safe, easy to install, and cows enjoy using them.
Cows that don't have enough water to drink will be dehydrated and may die. Sometimes, you may not notice that their waterers become empty or too small for them.
This is why you should know how to choose the right one for them. This article has useful tips, along with some of the best automatic cattle waterers.
What to Consider in Choosing the Best Cattle Waterer?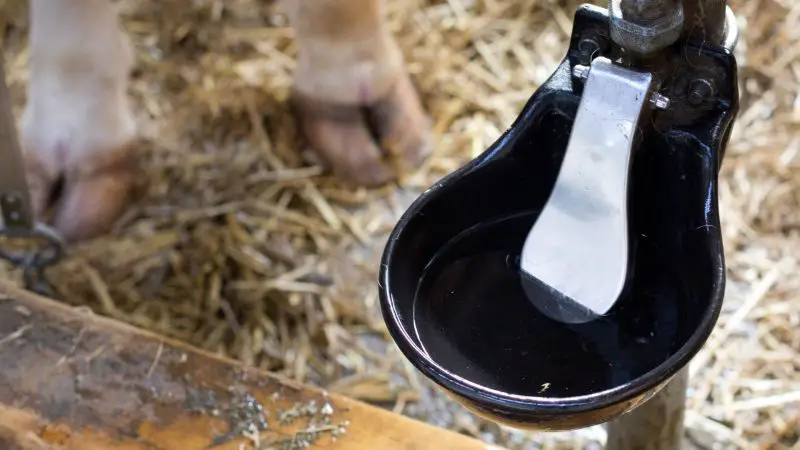 Choosing the best cattle waterer is a challenging task. A simple mistake may cause you a lot of money and may affect the health of your cows. There are lots of cattle waterers to choose from, but some of them may not apply to you. Below are some important factors to consider before buying a cattle waterer:
1. Design
These days, automatic cattle waterers are very popular because they are very efficient and convenient to use. If you are living in cold regions, you might want to choose a heated or insulated automatic cattle waterer.
This is to prevent water from freezing so that cows can still drink enough water during the winter season.
There are three common types of automatic cattle waterers – electrically heated, low energy, and alternate energy. All of them are efficient but have different designs, which depend on how water is being protected from freezing.
For best results, choose the right design for the climate in your location and your budget.
Electrically heated cattle waterer
Electrically heated cattle waterers require you to obtain a proper permit from your local municipal office for your electrical installation.
This is to avoid accidental electrocution of your cows, which will cause them to avoid your waterer. Here, electric heat tapes are installed on a thermostat to prevent the freezing of water.
Low energy cattle waterer
Low energy cattle waterers have well-insulated covers to make sure that water will not freeze. This type of waterer has a huge space for water, which must be consumed and replaced with warmer water before it becomes frozen.
The key here is to check the waterer at least once a day, especially in the winter.
Alternate energy cattle waterer
Alternative energy waterers are designed to keep the water warm without using electricity. Instead, this is done by using super insulators in the drinking tank or by using gravity to drain the water from the drinking bowl into an underground reservoir.
The pumping system can be powered by solar panels or nose pumps.
2. Bowl Size
A lactating cow usually drinks 20-40 gallons a day and can drink 3-5 gallons per minute. While drinking, they also prefer inserting their muzzle into the water at 1 to 2 inches deep while inclining their head at a 60-degree angle.
On average, a single cow spends an hour per day drinking, mostly after milking and eating.
Ideally, a cow needs 3 inches of accessible waterer perimeter in a herd. Given these figures, you can somehow estimate the size required for your cows.
Note also that two or more cows may drink at the same time, which is why you may not need lots of cattle waterers. Nonetheless, two waterers are a good start.
3. Shape
Square and rectangular cattle waterers are more popular than round and cylindrical ones because they provide more linear space and can fit along fence lines.
On the other hand, some troughs need a framework because they may eventually bow and cannot hold up on their own once they are filled with water.
To avoid building a framework, square or rectangular cattle troughs should be wider at the top than the bottom (trapezoid). Waterers with these shapes are also easier to clean as compared to cylindrical or round ones.
It should be in an elevated position so that cows will not step on them or will not fall into them.
4. Materials
Cows are not only huge and heavy, but they are also fast-moving animals that can damage or knock their waterers down. This is when the kind of materials used for their waterer steps in.
Without a doubt, concrete is the most durable material for waterers. However, it is expensive and can no longer be moved to another place.
Aside from concrete, waterers are also made of metal, fiberglass, or plastic. Metal or galvanized waterers are the most durable among the three but can be heavy and a bit difficult to install.
Fiberglass is lighter but can easily break, while plastic is very versatile and the least expensive, although it is not as durable as metal.
How Do Automatic Cattle Waterers Work?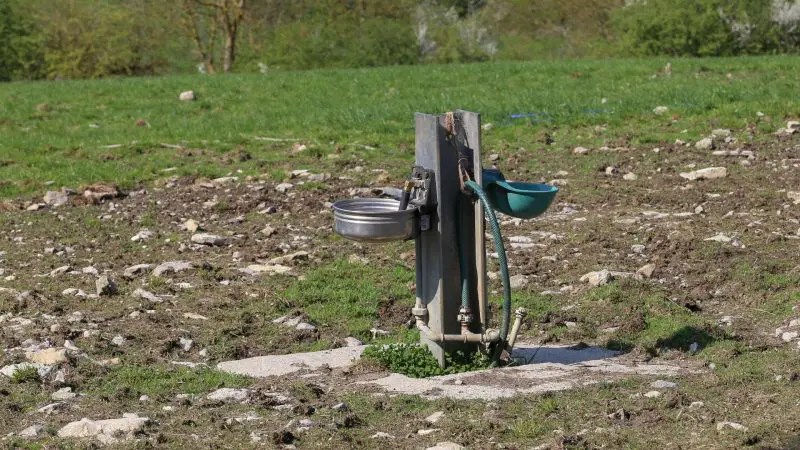 Different types of automatic cattle waterers work differently. But in general, all of them have a heating element or insulated bowls to keep the water from freezing in the winter and a thermostat to regulate the temperature of the water in the bowl.
They also have a float valve to control the level or amount of water.
The sources of water include ponds and pits, drilled well, rural water districts, or any water reservoir. Powered pumps supply the water to the water bowl through underground pipes, and cows directly drink from the bowl.
As they are drinking, the water level at the waterer goes down until it reaches the limit being set.
Then, a pump will automatically get water from the source and supply it to the waterer again. The shut-off will close once the level of water reaches its maximum limit.
The heating element can be controlled using electricity or insulated covers. Pumps are controlled by windmills, solar panels, or the cows themselves.
Do Cattle Need Water in Winter?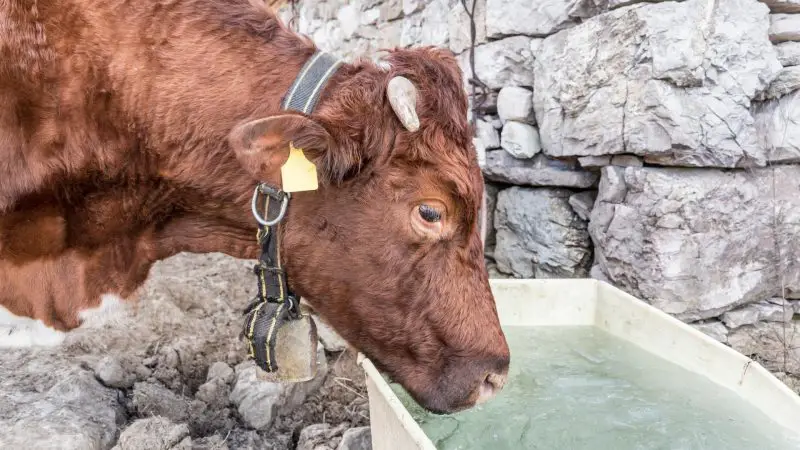 Cattle still need water in the winter but fewer amounts as compared to the warmer months. The amount of water cows need depends on their weight and the outside temperature.
For example, a lactating cow weighing 900 lb needs 11 gallons of clean drinking water a day if the ambient temperature is 40°F (4.4°C).
How Do You Water Cattle in the Winter?
Giving clean drinking water to cows in the winter looks challenging, but actually, it's not. If your automatic cattle waterer freezes in the winter, simply increase the settings of your thermostat.
If this strategy did not work, try thawing the riser pipes by attaching a rubber hose to the exhaust pipe of your vehicle. Then, run the hose down the casing so that the exhaust can heat the riser pipes.
If electricity is not available for keeping the water warm, use geothermal heat from the heat tubes that are buried deep into the ground. However, this method may still end up having some thin layers of ice and is not always effective.
If water is still flowing, cows can drink directly from clean streams and ponds.
But if the winter is too cold and there is no more source of water, you can allow your cows to eat snow. Research shows that cattle eating snow will still perform well, especially in milk production and producing calves.
Nonetheless, the snow should be clean, and cows should consume 30-40 pounds of snow every day.
Best Cattle Waterers
Below are 10 of the best cattle waterers today. All of them are high-quality, efficient, durable, and very affordable. They also have high ratings at Amazon and lots of positive reviews from verified users.
Little Giant Trough-O-Matic Stock Water Tank uses high-grade polystyrene as its housing, but it is also available in a metal casing. It allows water to flow up to 245 gallons/hour, operates at 20-50 psi, and connects to a standard ¾-inch garden hose. This automatic cattle waterer is very easy to set up and convenient to use.
Little Giant Automatic Animal Waterer has a water capacity of 4 gallons and includes two metal brackets for fence or wall installation. Just like the Trough-O-Matic, this automatic cattle waterer also connects to a ¾-inch garden hose. It also operates at 20-50 psi, and water can flow up to 245 gallons per hour.
HiCamer Automatic Cow Drinking Water Bowl is made of Grade 304 stainless steel but has no rough edges that can harm your cows. This durable automatic cattle waterer has a diameter of 9.8 inches, which can fit 2.5 liters of water. It operates at 1-50 psi, has 2 fixing holes at the rear, and can easily be installed.
Ritchie Thrifty King CT1-2000 is an automatic heated cattle waterer that sports a thermal equalizer design in patented drinking well to make sure that water is always at a moderate temperature. The elliptical closure provides convenience to cows while drinking, and it has a cover to keep the water free from contamination.
Ritchie Omni Fount 2 uses a stainless steel trough with replaceable heating elements placed directly under it for optimal performance. The trough is fully insulated with a polyurethane foam casing that has a rounded edge to avoid cattle from injuries and electrocution. It is designed to provide water for up to 40 cows.
Behlen Country EF-4C 4-Hole Energy-Free Waterer uses 4 float balls that can be pushed down effortlessly even by calves and small mammals that want to drink from it. With no heat elements needed, groundwater remains at 48-56ºF due to the heavy foam insulator. This amazing product also has removable drain plugs.
Ritchie Watermatic 100 is an automatic waterer for horses and cows that has a small and compact design for easy lifting, maintenance, and cleaning. This sturdy one-piece waterer has a water capacity of 2.8 gallons (10.6 liters), which can satisfy up to 20 thirsty cows. The housing is made of durable, high-quality plastic.
Little Giant 88SW is an all-purpose automatic stock waterer housed by a heavy-duty, rust-proof galvanized steel frame. This highly-dependable automatic waterer safely operates at 20-50 psi and allows water to flow at 245 gallons per hour. It can easily be connected to a 1/2-inch pipe or garden hose at any height.
Little Giant 88ESW is an all-purpose automatic waterer that is constructed from heavy-gauge, solid steel with nontoxic black epoxy coating. This reliable waterer can hold 1 gallon of water and has an "automatic" filling feature, which means that refilling is not required. It fits with a 1/2 inch pipe and is easy to install.
A proud product of Rabbit Nipples, this automatic stock waterer is made of Grade 304 stainless steel and can also be used by goats, horses, sheep, and even dogs. This sturdy waterer can hold up to 2.5 liters of water and operates safely between 20 and 50 psi. It also has an adjustable float and can be installed easily.
Summary
Waterers are essential items in keeping cows healthy, so you have to be very careful in buying them. But while the tips above are very helpful, the best judges for choosing the best waterers are the cows themselves. Cows will drink less than they need or will not drink at all if you give them the wrong waterer.
List of Sources
Can Cows Eat Snow to Meet Water Requirements