Chicken strollers are becoming quite popular these days. This wheeled carrier allows you to take your beloved chicks wherever without worrying about how heavy the cage will be. But what exactly is a chicken stroller, and where can you find one? Continue reading to know the answers. 
To give you an idea, what are the best chicken strollers? The best chicken strollers are:
In this article, you will be introduced to each of these chicken strollers to help you identify which one will work best for you and your pet.
This article will also discuss the pointers that you should consider before buying one. So, what are you waiting for? Read on to know all about the best chicken strollers. 
What Is a Chicken Stroller?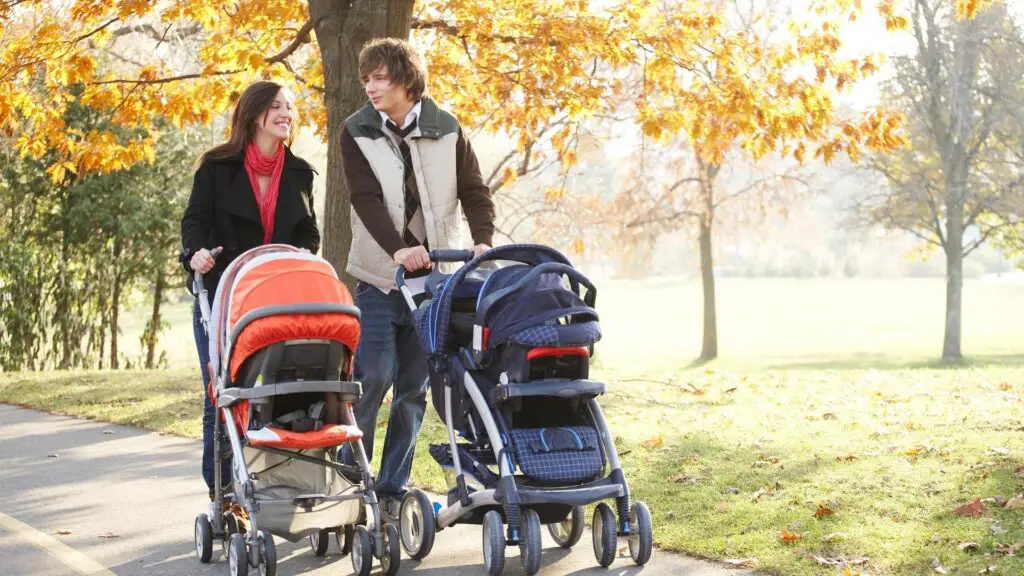 A chicken stroller is a wheeled contraption that allows owners to take their chickens from place to place without carrying a heavy stroller. It is designed like a cage mounted on a cart-like contraption so owners can easily transport their chickens from place to place. 
Some strollers are likewise designed with a poop tray at the bottom so that chickens can defecate without creating a mess inside the cage. These trays also help collect the manure, which can later be used as fertilizer.
Usually, these chicken strollers are big enough to allow the chicken to stand and stretch their wings comfortably. 
What Does a Chicken Stroller Look Like?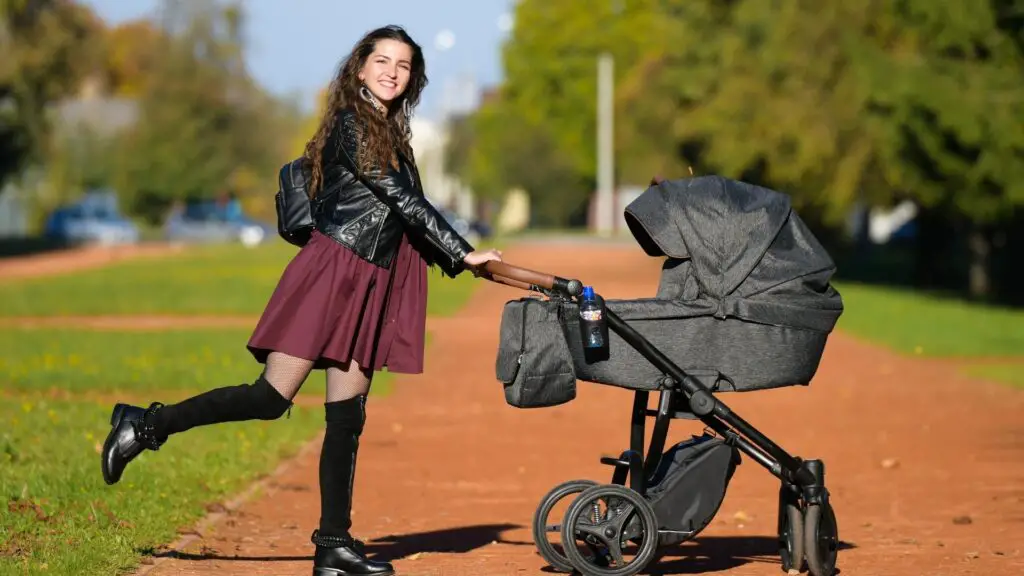 A chicken stroller looks like a cross between a baby stroller and a shopping cart. It has a cage where the chicken will be kept. Some chicken strollers have a canopy or half a canopy, so the chicken will be protected against the sun. The cage is mounted to a cart with sturdy wheels that can be easily maneuvered to make walking your chicken hassle-free. 
Most chicken strollers have a solid base where pet owners can put soil or hay to prevent their watery poop from touching the ground. Others have a poop tray to catch their feces without creating a mess in the cage itself. 
What Is the Main Purpose of Chicken Strollers?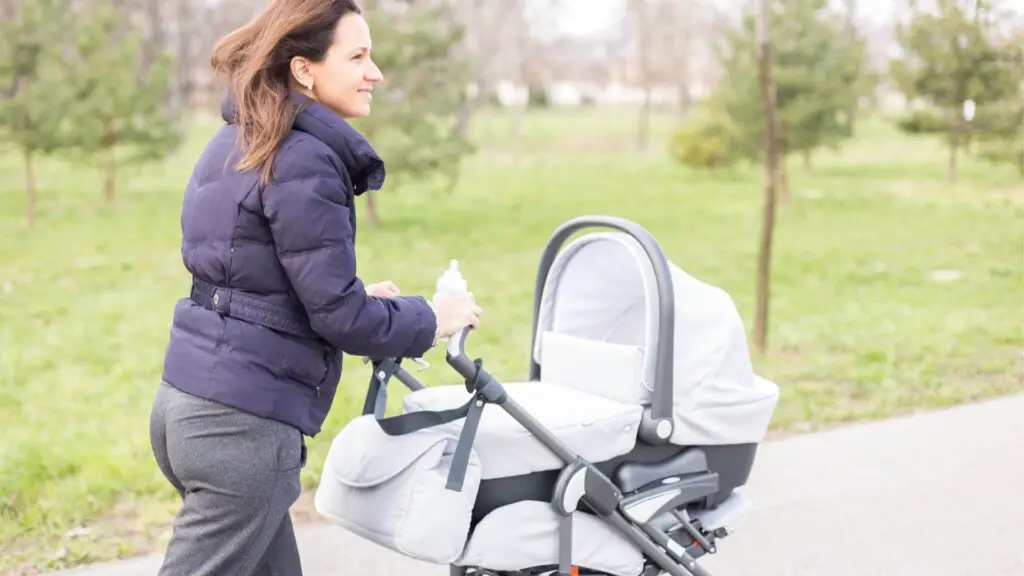 The main purpose of a chicken stroller is to safely transport chickens without causing trouble. Chickens are known for their aggression, so walking them without being caged may cause them to attack other humans or pets. Additionally, a chicken stroller will keep them from defecating in public areas. 
A subsidiary purpose of a chicken stroller is that it is a convenient means to transport chickens. Since it has wheels, chicken owners only need to push the stroller toward their destination. Thus, this relieves pet owners from the burdens associated with carrying a heavy chicken cage. 
What to Consider in Buying Chicken Strollers?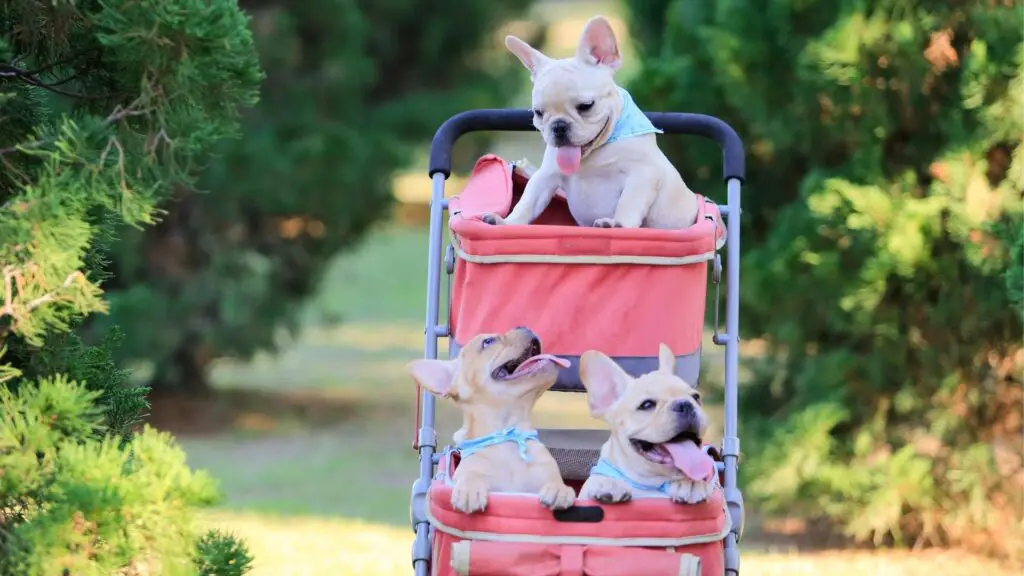 Size. Chicken strollers come in different shapes and sizes. But it's important to pick one that's spacious enough to allow your chicken to move around or flap its wings comfortably. 
Wheels. A good chicken stroller should have solid and sturdy wheels. Having sturdy wheels ensures that it can take on the chicken's weight without falling apart throughout the journey. 
Maneuverability. The main function of the chicken stroller is to safely and conveniently transport your pet chicken from one place to another. With that said, you should be able to maneuver your chicken stroller with ease to get to your destination without issue. 
Base. The chicken stroller should have a sturdy base that can support the full weight of your chicken. Otherwise, it will easily fall apart, especially if you own a heavy chicken breed. 
Foldability. Foldability is one of the features that a good chicken stroller should have. This feature helps save up space whenever you're not using the chicken stroller. It also allows the stroller to fit inside the trunk of your car in case you have to travel far with your chicken. 
Ventilation. As much as possible, pick a chicken stroller that has great ventilation. This will prevent your chicken from feeling suffocated – which can cause them stress. 
Extra Features. You might also consider other features to ensure your chicken's safety and comfort. This includes brakes, a canopy, feeding trays, and cup holders, among others.
How Do Chicken Strollers Differ from Other Pet Strollers?
The biggest difference between chicken strollers and pet strollers is that chicken strollers usually have steel cages instead of fabric baskets. However, these pet strollers and chicken strollers are often used interchangeably – especially among pets that are not yet trained, as to where they should defecate. 
Best Chicken Stroller You Can Buy Online
The Four Paws Blue Fresh Air Pet Stroller is a convenient way to transport your chicken all over town. Its half-netted design prevents your chicken from becoming suffocated, while the covered portion gives it shade when the sun's too hot. And for its comfort, the synthetic cotton pad at the base gives it added cushioning. 
This pet stroller comes with six wheels – four at the front and two at the back – to ensure a sturdy base to keep your pet safe while being easy to maneuver. 
For your convenience, the Four Paws Blue Fresh Air Pet Stroller easily folds and locks into a compact unit for easy storage. When it's time to take your chicken out for a walk, setting it up again won't be a problem. It also helps that the carrier can be separated from the stroller itself, and this comes in handy if you have to ride the car and leave the stroller in the trunk. 
No products found.
No products found.
Travel System Foldable pet stroller, also known as ROODO Pet Jogging Stroller, is another chicken stroller for you to consider. Its key feature is its impressive folding structure – allowing it to fold down to dimensions of 22 by 18.5 by 10 inches. And that's small enough to fit a plane's overhead bin. 
To ensure your chicken's comfort, the Travel System Foldable pet stroller has a sturdy basket with an overhead cover. It likewise has a grid barrier to prevent your chicken from flying out but still allows ample air circulation to keep it cool. 
At the bottom of the stroller is a basket compartment where you can keep other items, so you don't have to bring any extra bag for snacks or pet essentials. This pet stroller is supported by six non-inflatable rubber tires to ensure smooth movement across different terrains. 
While it looks bulky, the Travel System Foldable pet stroller is surprisingly lightweight. This is thanks to its aluminum frame, a metal that's known for being lightweight yet incredibly durable. 
If you're looking for a chicken stroller for your heavy chicken breed, then the BestPet Pet Stroller 4 Wheels Posh Folding Waterproof Portable is perfect for you. With an impressive 35-pound capacity and spacious basket, even a large rooster can sit comfortably in this stroller. 
This chicken stroller has a half canopy, where your chicken can hide in the shade in case it rains or if the sun's too hot. For added convenience, the BestPet Pet Stroller 4 Wheels Posh Folding Waterproof Portable has two cup holders, a feeding tray, and an extra storage basket.
The BestPet Pet Stroller 4 Wheels Posh Folding Waterproof Portable is also easy to set up. It sets up within minutes, and when it's time to keep it for storage, it folds down within seconds with a push of a button. 
The BestPet Pet Stroller Cat Dog Cage Stroller Travel Folding Carrier is another top option. It has a full top canopy to keep your chicken safe from harsh heat or rain, but it has breathable mesh windows to keep the interior well-ventilated. This makes it perfect if your chicken is quite uncontrollable.
This stroller has four swivel wheels at the front to make maneuvering a breeze. It likewise has a pair of wheel brakes at the back to keep it in place when you decide to take a break. 
If you have to take several items with you during the walk, it has an extra large storage compartment at the base at your disposal. It also has two cup holders to make sure you stay hydrated as you walk your chicken.
If you're looking for a chicken stroller for your child, then the Hauck Furreal Pet Stroller is the perfect option. With its child-suitable height and lightweight design, your child will be thrilled to walk his pet chicken in this stroller. 
It features a total of eight wheels – four in the front and another four at the back – to make it easy to move around. It also has a storage basket at the base where your child can keep his toys while he's busy walking his chicken. 
The Hauck Furreal Pet Stroller also has a fun and colorful design that's truly kid-friendly. However, due to its petite size, it may only be suitable for chicks and young chickens. 
If you value your chicken's space more than anything, then look no further than the Pet Gear No-Zip Stroller. With a length of 23 inches, a width of 22 inches, and a height of 32 inches, even a medium-sized dog can fit in it comfortably. 
The fact that it has a 45-pound weight limit also ensures that it's sturdy enough to support even the heaviest of chicken breeds. With that said, your chicken is free to roam around this stroller to prevent it from feeling caged. 
Another interesting feature is its no-zip design. It opens and closes with a push of a button, so you can put your chicken inside hassle-free. This works best if you have such an unruly chicken.
Additionally, it has a dual-entry design – one opening at the front and one at the back. This allows you to choose which entry point will be most convenient for you and your chicken. 
All things considered, the chicken stroller is a great way to take your pet chicken on a trip. Thanks to its wheeled design, you can easily push them around like you would a baby – and that gets rid of the hassle of having to carry them by hand. Some strollers now even have eye-catching designs so you can take your chicken on a walk in style. 
List of Sources 
Effects of Cage and Floor Pen Management on Behavior, Production, and Physiological Stress Responses of Laying Hens
Using Chicken Manure Safely in Home Gardens and Landscapes
Thinking Chickens: A Review of Cognition, Emotion, and Behavior in the Domestic Chicken
Effects of Outdoor Access and Indoor Stocking Density on Behaviour and Stress in Broilers in the Subhumid Tropics