The daily solid food intake of a cow is around 50 pounds, and it drinks water amounting to 30 to 50 gallons every day.
Solid food is placed on a feed bunk while the water is in a trough. These things are essential to make the cows grow healthily.
Do you really need troughs for your cow? Cow troughs are needed when raising cows because they can ensure clean water. You should know that they won't likely drink less appetizing water. It usually happens among cows that just arrived on the farm. So, their palate needs to adjust to the new water quality.
You have to keep the cattle from contaminated water, or else, their health and performance will deteriorate. If it happens, there will be losses in production.
Upon knowing that cow troughs are essential when raising cows, you have to get one that suits your farm's needs. You're on the right page as it's featured here.
What Do Cow Troughs Look Like? What Are They Used For?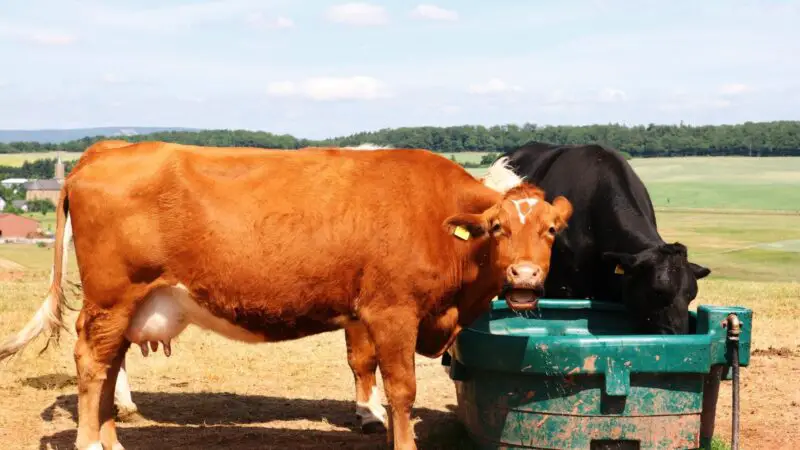 Cow troughs are in different sizes because they can be either used temporarily or permanently to supply water for cows. They are in different forms as some can be rectangular, and there are bowl troughs.
A cow trough can keep water from contamination which is harmful to the cattle. The location of the troughs should not be more than 50 feet away from the cows.
Apart from being a container for cow's drinking water, a cow trough can also be used as a water treatment that contains sulfate salts or chloride. This is a way to prevent grass tetany among cattle during spring and fall. Water treatment can work with pumps and dispensers.
What to Consider When Buying Cow Troughs?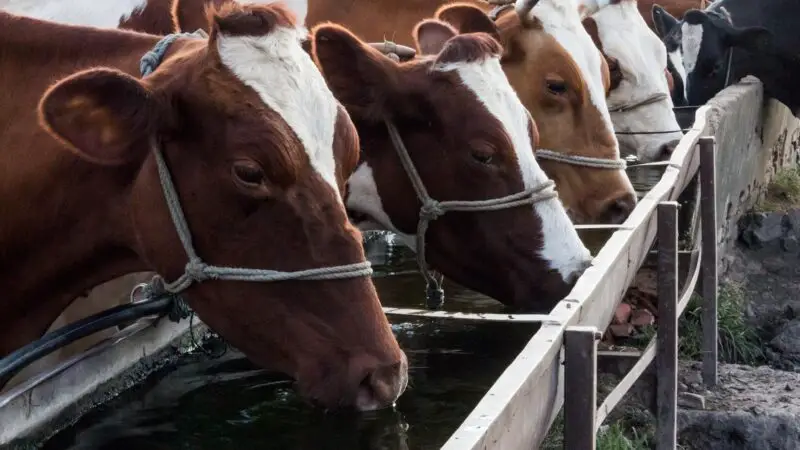 Materials and Safety
Cow troughs can be in different materials such as concrete, metal, fiberglass, plastic, and polyethylene. Fiberglass is the weakest among them, and it can crack easily. If it happens, some sharp edges can hurt your cows.
Although cattle are not fast-moving animals they can push hard with their weight. Different weather can also have effects on the troughs. For instance, freezing weather can create cracks in the trough.
You also have to be concerned about copper and metal as they can discharge zinc into the water, especially when rainwater gets into the trough. Rainwater can increase acidity but if you have a concrete trough, there will be some lime to lower it.
If you pick a plastic trough, make sure that it's made of food-grade material so no unwanted substance will mix into the water.
Size
Each cow should be given 3 linear inches of water space, so several cattle can stand and drink without interruption. This requirement will help you determine the necessary trough length. 
Best Cow Troughs Review
This is a stock tank that is undoubtedly suitable as a cow trough. With its 100 gallon capacity, it can meet the needs of your cows. Due to its structural foam and seamless construction, it's durable, so it's not easily damaged by weathering or cracking. Cleaning and maintenance are a breeze since there's a drain plug.
There's a lot of space for a few cows from its 32-inch length. It's composed of stainless steel grade 304 with a brushed finish for a sleek and modern look. Hence, it's just right to say that it's sturdy and sure to last.
Worrying about a broken cow trough is a waste of time if you have a heavy-duty item like this. It has a rubber-like, oval body that showcases sturdiness. The composition of this tank is environmentally friendly because it's from recycled material. When it comes to capacity, this tank is great as it can hold 140 gallons.
The dimension of this tank makes it a reliable cow trough. Also, its construction is ideal for its purpose. Its resistance against impact is impressive, so it doesn't crack or break easily. The credit goes to its poly construction.
This is an on-the-go cow trough as you can attach it to walls, posts, rails, and more. Your cows won't go thirsty as it carries a fixed amount of water. It's made of stainless steel that is resistant to corrosion and high temperature. Therefore, it can last long.
The toughness of this tank is remarkable as it's built to withstand even the harshest farm or ranch conditions. Thus, every part is meticulously designed for the needed strength to make it lasting. The ribs and sidewalls are rigid, while the bottom part is heavily galvanized. For more support, there's a steel tube rolled on its top. It has a dimension that's perfect for holding the water for your cows.
It's a plastic trough that you can depend on as the material is resistant to daily wear and tear and corrosion. You won't worry that it might fall and break. The water supply can be set into continuous flow so your cows won't run out of water. An extra float valve and plastic nut come with every trough for adjusting the water level.
This tub is ideal for a temporary water trough as you can easily move or turn it around. Still, you need to put duct tape on the lower part for protection when dragging it. Amazingly, it can withstand -20 degrees Fahrenheit.
As a portable trough, you can easily turn it upside down by using the handle. This also means easy cleaning. It has a good construction too as it's made of heavy-duty polyethylene. That's why it can survive all weather conditions. Even though the water freezes, this trough remains intact.
Touching this tank will tell you that it's sturdy because it's thick and well-built. It's also massive, with a capacity of 300 gallons, but draining is so easy. You can find its strength in withstanding the cold winter days.
You don't have to waste time checking the cow trough from time to time if you have this water tank. It can make automatic refills as it can detect the water level. It can deliver 245 gallons of water per hour. This tank is durable since it has a heavy-duty aluminum housing, which won't easily give in to damage and elements.
No tipping over can happen to this tub because of its offset bottom. It's also well-supported with deep sweeding. Carrying it is a breeze because there are two handles side by side. Since it's made of stainless steel, it's not easily damaged.
Frequently Asked Questions
How Many Water Troughs Does a Cow Need?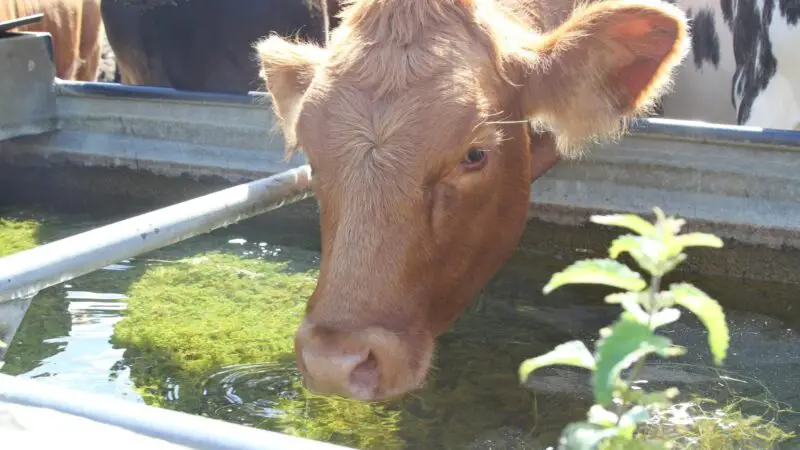 A cow only needs one trough. University of Kentucky Agriculture, Food and Environment even suggest that 20 cows can share a single, long trough given that the water space is 3 to 5 inches.
How Do You Set Up a Cattle Water Trough?
You have to connect the water trough to a water system. Moreover, it can be connected to a float valve which is installed with the water supply pipe controls.
The ideal flow rate is 5-8 l min−1 for every drinking cattle. In a loose housing system, a single trough is enough for 50 to 60 cows. The 4-5 l min−1 is applied, and the 0.6 m depth is good. 
How Do You Maintain Feeding Troughs?
Feeding troughs should be cleaned routinely. It must be done weekly with a mixture of 5 gallons of water and a cup of bleach. Scrub the trough to ensure that algae and small particles are removed.
Rinse thoroughly to ensure that bleach doesn't adhere to the trough. It should be free from any substance before you make water refills.
Why is the End of a Trough Covered?
The end of a trough is covered to prevent contamination and control the water level.
What Height Should a Cattle Trough Be?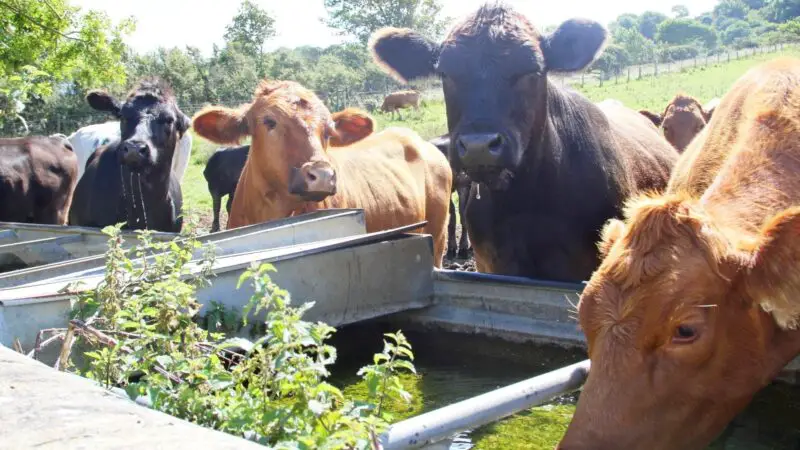 Ideally, the cattle should be 2 to 3 feet tall, with a fill rate of 2.5 gallons per minute.
Summary
Water goes hand in hand with grass, hay, and feed in promoting the welfare of cows. Choose a water trough that is sturdy enough to not easily break and withstand cold weather.
It shouldn't be prone to breakage as the sharp part can hurt an animal. See to it that it can carry enough water. so your cows have enough to drink.
List of Sources
Water Needs for the Dairy Herd
Managing Feedbunks and Water Troughs