Ducks prove to be hardy animals that are not prone to poultry diseases. It means that raising them is easy. Also, brooding ducklings don't need special equipment or housing.
Furthermore, these babies don't go through a long brooding time because of quick growth and feathering. Due to the toughness of these animals, you may wonder what specific care they need.
Do ducklings need a heat lamp? They need warmth after hatching from eggs, so they need a heat lamp. You can secure a heat lamp for their brooder house, barn corner, or garage. The warmth can be produced by infrared heat lights. 
These lights are convenient, and you can have two lights that are 125 watts each. The temperature should be around 85 to 90 degrees Fahrenheit when the ducklings just hatched from the eggs. Then, you can lower the temperature by 5 to 10 degrees after a week.
When there's a high temperature in their brooder, ducklings keep themselves away from heat. It can also result in slow growth and feathering.
If the environment is cold, they gather together in the corner. If you want to give the right insulation so your ducklings grow well, read on.
What Is a Heat Lamp? How Does It Work?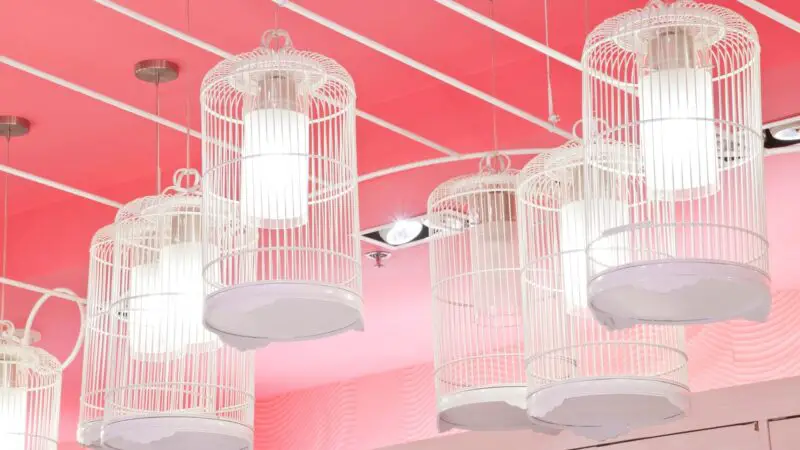 A heat lamp is utilized through a short-wave infrared radiation initiator. This infrared radiation found in this lamp can cause the surfaces to be heated.
Nonetheless, the light is encased in a glass that can resist heat but you still have to ensure that no liquid gets in contact with it. In addition, you shouldn't put it near combustible materials.
A 250-watt heat lamp can operate with 115 to 125 volts with standard sockets and voltage circuits. When using paper or plastic sockets, regular inspection is crucial since these things deteriorate through time and need to be replaced.
What Kind of Heat Lamp Is Good for Ducklings?
An infrared heat lamp is good for ducklings.
What Wattage of Heat Lamp Is Good for Ducklings?
250 wattage heat lamps are good for 30 ducklings. It's fine to get two pieces of light that have 150 watts each.
Can Ducklings Survive Without a Heat Lamp?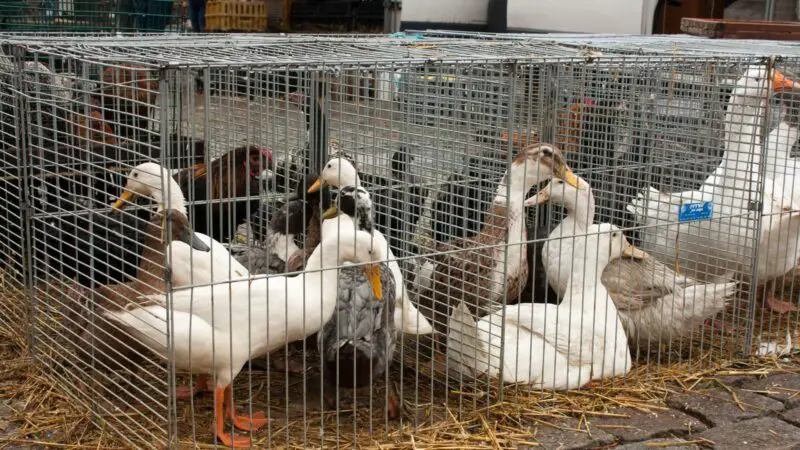 One of the basic needs of ducklings is the warmth that they can obtain from a heat lamp. Hence, they need it for survival. Even from incubation, heat influences the embryo growth so is the ducklings after hatching.
Those that went through the highest incubation temperature have better thermoregulatory performance as they grow.
How Long Do Ducklings Need a Heat Lamp?
Ducklings need a heat lamp for up to 6 weeks as it depends on the climate of the place where they live. During the said period, they're still incapable of regulating their body temperature.
They can have feathers in 4-week time, so it's fine to let them go out as long as the outdoor temperature is around 70 degrees Fahrenheit.  
Do Ducklings Need a Heat Lamp at Night?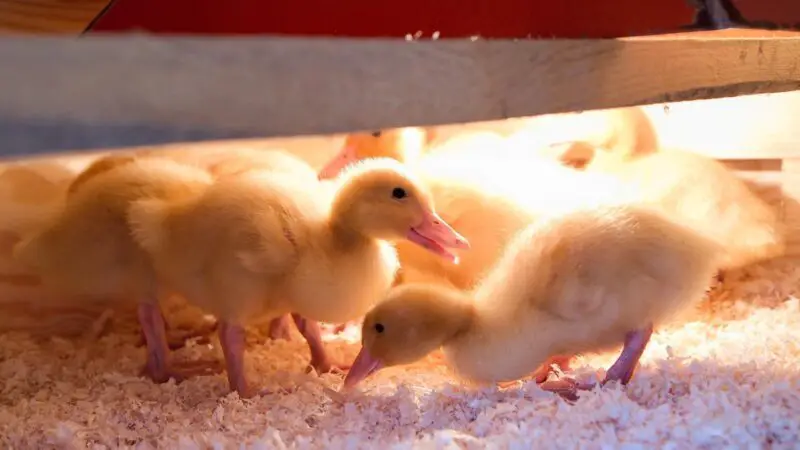 Ducklings still need a heat lamp at night as the temperature of the brooder should be consistent. This will prevent them from crowding in a corner or one section.
Do Ducklings Need Heat Lamp in the Summer?
Ducklings need a heat lamp in summer, but the supply of heat is usually utilized for 2 to 3 weeks.
Do Ducklings Need a Heat Lamp in the Winter?
Ducklings need a heat lamp in winter, and the supplementation of heat likely lasts for 5 to 6 weeks. Providing heat for ducklings in cold weather takes longer than in the summertime.
Do Ducklings Need a Heat Lamp Indoors?
A heat lamp is required when ducklings are indoors or in their brooder. It's essential for growth and feathering. An infrared heat source is the most appropriate.
A thermometer is even recommended to use for the brooder to have the ideal environment. The right temperature must be maintained all the time since ducklings need heat, but they're not fond of it.
When it's cold, the ducklings tend to huddle together. As you can imagine, overcrowding can happen, and it's not ideal for their health and growth. Giving enough space for each duckling is essential so they can grow into healthy adults.
The rise in the temperature has also adverse effects. Some poultry owners will add brooder guards for more space where the ducklings can move if ever the temperature gets high. Note that high temperatures can delay growth and feathering.
Another consequence of excessive heat is the contamination of ducklings' feed. Temperature and humidity encourage the growth of fungi that can cause fatality in just a matter of one week. These mycotoxin fungi can damage a duckling's liver based on the study conducted at the University of Maine.
How to Set Up a Heat Lamp for Ducklings?
You can set up a heat lamp for ducklings in one of the corners of the brooder. The heat lamp can be hung from the solid support, just like a sawhorse.
You can also rely on the ceiling for the light to hang properly. It should be 18 inches away from the floor and make sure it doesn't touch the bedding for fire prevention.
How to Keep a Duckling Without a Heat Lamp?
Some may think that heat lamps can be a fire hazard. Well, the good news is that there are other ways to provide the warmth that ducklings need. These alternatives don't need electricity to work.
Feather Duster
Ducklings can snuggle around the feather duster like Ddzmz ostrich feather duster and GM royal feather duster since they have real feathers. You can buy more than one, so everyone has a chance to get some warmth.
Hot Water Bottle
A hot water bottle can provide sufficient heat needed by ducklings. You can easily find the good ones from Attmu, HomeTop, and Relief Pak. If you opt for this, be ready to change the bottle from time to time as it cools down.
Have Companions
It's been said that overcrowding is not a good thing when raising ducklings and even ducks. Putting three ducklings in a brooder is enough as they can get warmth from each other. There's no need to make a jam-packed brooder.
Heated Brooder, Waterer, and Pads
The best recommendations for these are K&H Pet Products Thermo-Poultry Brooder, Farm Innovators Heated Plastic Fountain, and K&H Pet Products Thermo-Peep Heated Pad.
Do Old Ducklings Need a Heat Lamp?
Old ducklings need a heat lamp because there's still a recommended temperature. Though you can lower the temperature after the week that they hatched from the eggs, they still need exposure to the optimum temperature, especially in cold weather. Starting on their 8th week, you can let them dwell under room temperature. 
What Can I Use Instead of a Heat Lamp?
Here are the possible replacements for heat lamps:
Incandescent Light Bulb
You may also use an incandescent light bulb on the brooder's end since it's an economical option. Although this bulb operates like a heat lamp, the latter delivers a lot of infrared radiation which makes it efficient in providing warmth to the ducklings.
Two 40-watt bulbs should be enough, and you can place them at the end of the brooder. Moreover, there's one left if the other gets burned out. A thermostat can be added to the second bulb to control the temperature.
Reptile Lamps
A reptile lamp is not only suitable for reptile cages but ducklings' brooders as well. If you worry about the risk of using a heat lamp then this is for you. Due to its smaller size, it's safer than the full-sized heat lamp.
Alternate Heat Source
You're wrong if you think that some heat sources like Mr. Heater and Dreo Space Heater are expensive. They're affordable, but they can serve their purpose well.
How Do You Raise Ducks Without a Heat Lamp? | A Detailed Guide
If you raise ducks without a heat lamp, you have to set up their beddings with a lot of care. But be aware that this setting is not ideal in cold areas.
Place a piece of cloth or towel in the brooder for the first week of the ducklings. These materials can help them get their footing.
Dry shavings or straw beddings can be added into the brooder after a week to keep them warm even without a heat lamp. However, this setting requires diligent monitoring to ensure that the ducklings don't get cold.
Summary
A heat lamp is ideal since it can give off much-needed heat. As mentioned, warmth is essential in the growth of ducklings, so it's best to depend on a reliable heat source. But you have to choose the correct wattage and install the lamps properly, so the temperature is just right for the ducklings.  
List of Sources