Egg shells are easily cracked and broken. This means the risk of contamination increases by a thousand percent when storing eggs in a large number in one place.
You can use egg skelter as an alternative to old-fashioned egg collecting containers and buckets.
So, how does an egg skelter work? It is simple to keep track of the newest and oldest eggs with egg skelter. Put an egg in the rack, then arrange them all in the skelter. The eggs are rolled up in a spiral shape so that the older ones can be eaten right away.
Additionally, it's a fantastic way to arrange your eggs and safeguard them from dirt and breakage when they're still fresh inside. Egg skelters are great because they allow you to store multiple eggs at once without having to worry about them getting crushed or breaking.
What to Consider in Buying an Egg Skelter?
The following are things to consider in buying an egg skelter:
Durability. It's always a good idea to start by thinking about how often you'll use your egg skelter. If it's going to be used a lot, then it might be better to go with something more durable and sturdy.
Storage. If space is at a premium and there isn't much room for an egg skelter, then metal models are typically more compact and easy to store when not in use than plastic ones.
Best Egg Skelter
It has a high-quality design, which makes it easy to clean and store. The Yontree Spiraling Egg Skelter in Black is made of chrome. This means that it's strong and durable but not too heavy for you to lift easily for its 1.1 lb weight. It has a dimension of 8.07 x 7.09 x 8.66 inches. It can hold up to 12-18 eggs, depending on its size.
The Harris Farms egg skelter is made of powder-coated metal that can withstand a lot of use without breaking or wearing out. The product is also very easy to clean, so you never have to worry about bacteria getting into the eggs if you leave them dirty for too long. 
This egg skelter also has a large capacity, which means that it will hold at most 18 eggs at once. It costs $25.44 and has a dimension of 10.63 x 7.87 x 7.87 inches. The product is also lightweight, with 0.73 pounds in total weight. 
Toplife Spiral Design Metal Egg Skelter features a 360-degree rotating and spiraling design. It holds a maximum number of three dozen eggs. Also, it has an ergonomic design that makes it easy to use and comfortable to hold. It comes with a non-slip felt base that makes it sturdy and stable. 
Additionally, it is also lightweight, which means you won't have to worry about a heavy, bulky product sitting on your countertop or table. It has a dimension of 6.89 x 6.89 x 16.14 inches and weighs 1.72 pounds. This product is available for $27.99 on Amazon. 
KKY Spiral Metal Egg Skelter in Red is known for its durability and quality. The egg sorters are made of high-quality alloy steel, and they come in different colors as well. The KKY spiral metal egg sorter is designed to hold an incredible amount of eggs at once, ranging from 20-24 pieces depending on the size. It has dimensions of 7.1 x 7.1 x 11.4 inches and weighs11.91 ounces. This product costs $24.99 on Amazon. 
TENINYU Egg Skelter is lightweight, portable, and easy to use. The product is made from iron, weighing 11.75 ounces, which makes it light enough to carry around with you wherever you go. TENINYU Egg Skelter is also very affordable compared to other brands on the market today. It has a cheap price of $17.85, which can hold up to 20 eggs.
Egg Skelter Deluxe in Silver is one of the best egg skelters because of its durability, high quality, and affordable price. The material is made up of alloy steel and has a dimension of 7.8 x 7.8 x 10.5 inches, and weighs 0.71 pounds. It can hold up to 24 eggs but may differ depending on the size. 
This egg skelter has an elegant design made of metal with a black coating. You can take it practically anywhere with its handle ring. It also comes with a large capacity of 18-22 eggs, depending on its size. With its cheap price of $17.99, it also includes a stainless steel egg opener for free!
It has a convenient carry handle with a 180° rotation for when you wish to put the egg basket in the dining room or kitchen. Boiled eggs can also be placed on this egg rack and brought to your party table.
You don't need to be concerned about the eggs sliding down and breaking because of the large, solid metal base and the stable egg rack structure. It also comes with two white square egg cup holders that are included with the egg storage rack. The height, including the carry handle, is 11.81 inches tall. Depending on the size of the eggs, they can hold up to 18 to 23 eggs.
The Pros and Cons of Using an Egg Skelter
 Pros:
Eggs can be stored for up to two weeks without refrigeration.
Eggs are easier to pack in the egg skelter than a regular carton.
It will be easier to identify which egg is older than the other, reminding us to consume older ones immediately.
The egg skelter is reusable, so you don't have to toss it after each use. 
Cons:
If you don't store your eggs properly, they won't last long before they spoil.
The egg holder may not fit all types of eggs.
How Do You Use an Egg Skelter?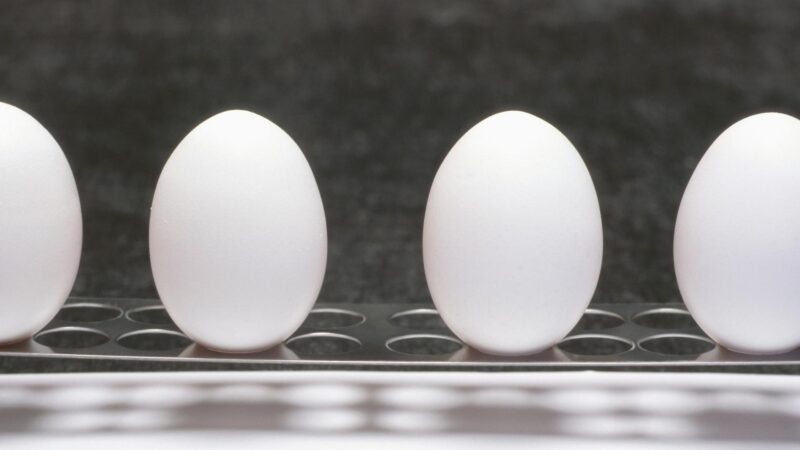 The skelter is easy to use. Just place an egg in each compartment and arrange them in the rack. To allow for immediate consumption of older eggs, the eggs are rolled up in a spiral pattern. This makes tracking and identifying your eggs simple, ensuring you never receive a batch of mixed eggs.
Does Egg Skelter Size Matter?
The egg skelter's size matters. Eggs come in many sizes, which is why choosing the perfect fit for storing your eggs is a must if you don't want to waste money and space.
How to Keep Eggs in Date Order?
The easiest way is to buy them at the grocery store, where they will already be in date order. If you don't have a grocery store nearby, you can also buy them online or at a specialty store.
If you don't have time to wait for your eggs to reach their peak freshness, you can also place them in cool water and let them sit on your countertop until they are no longer fresh. Putting them in a refrigerator also helps keep any bacteria that might be present at bay and makes sure that your eggs don't get too old before you use them.
What Is the Best Way to Store Eggs?
It's best to store your eggs in a refrigerator, which is also the safest place for them to be. The USDA recommends that you keep raw shell eggs at 40°F or below. Since refrigerators are typically set at 40°F or below, it is generally safe to put your eggs in until the expiration date is printed on the carton.
List of Sources
How Do You Handle and Store Eggs Safely?
Safety Tips for Handling Farm Fresh Eggs