Chickens are low-maintenance livestock. As long as you take care of their basic needs, they will be satisfied. However, it's vital to know how often chicken bedding needs changing so that you can buy the necessary supplies in advance.
How often to change chicken bedding? Flock size, coop dimensions, and layering method determine how often you should change chicken bedding. Replace traditional, light bedding with fresh, high-quality material once a week after discarding poop and cleaning the coop. The deep litter method needs changing every six months or once yearly.
This article informs poultry raisers about the frequency of bedding changes and its other aspects. Read on for details.
Types of Chicken Bedding Management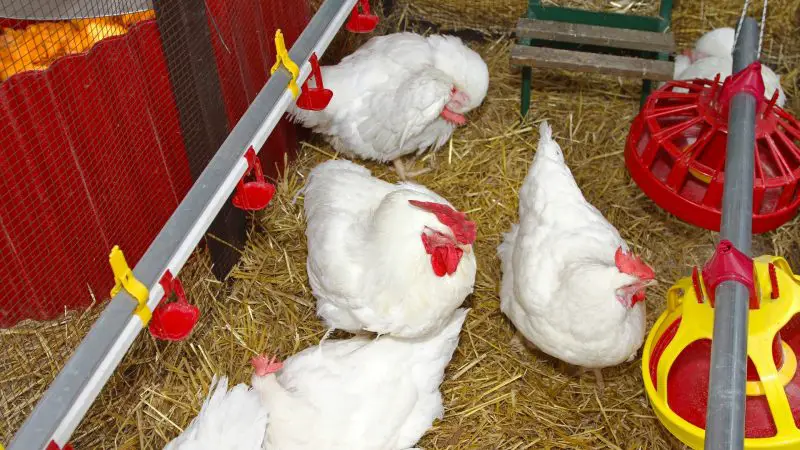 There are two types of chicken bedding management:
Traditional method. The use of light bedding requires frequent changing. It can be daily or weekly, depending on the size of the flock and coop.
Deep litter method. It uses five or six inches of organic bedding, which you allow to turn into compost. So, it requires less changing, from six months to once a year.
Qualities of Effective Chicken Bedding Material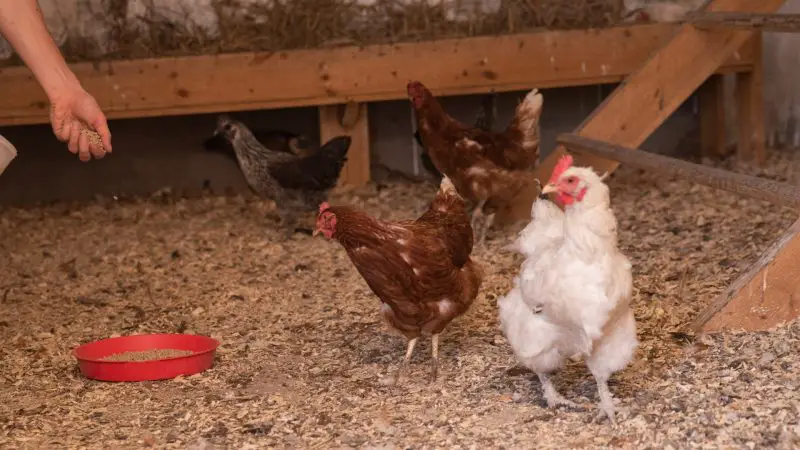 The 2005 study of Ritz et al. from the University of Georgia's College of Agricultural and Environmental Sciences specifies these characteristics that make optimum quality bedding:
May be used as a soil additive or fertilizer after serving its primary purpose
Efficient humidity regulation
Why It's Essential to Change Chicken Bedding?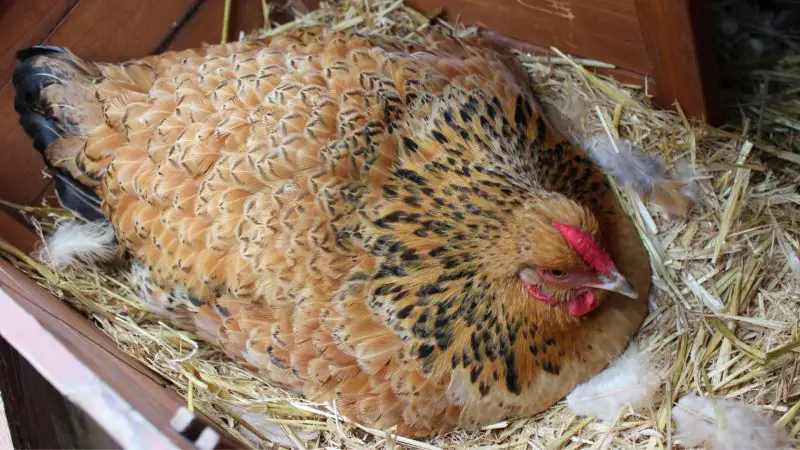 It is essential to change chicken bedding for the following reasons:
Changing chicken bedding keeps the coop floor warm and sanitary.
It provides a soft surface for your pets to walk on.
This offers eggs a cushiony platform to land on, thus preventing cracks.
It absorbs odor and excrement. 
Your flock will appreciate the comfort, cleanliness, and care you extend toward their health and wellbeing.
Clean bedding promotes more restful sleep.
Soiled bedding harbors bacteria and viruses—hazardous for both poultry and humans.
It absorbs excess moisture from feces and drinkers.
This extends the coop floor's surface area, thus promoting dryness.
It thins out fecal material, minimizing contact between the material and the chickens.
Accumulated droppings and dust are dangerous for fowl.
It protects chicks from the cold.
This acts as a safe cushion between poultry and the floor.
Humans can get ill from cleaning coops. Take safety precautions. Use face masks, gloves, and cleaning gear. Scrupulously wash and disinfect tools and clothes afterward.
What to Use for Chicken Bedding?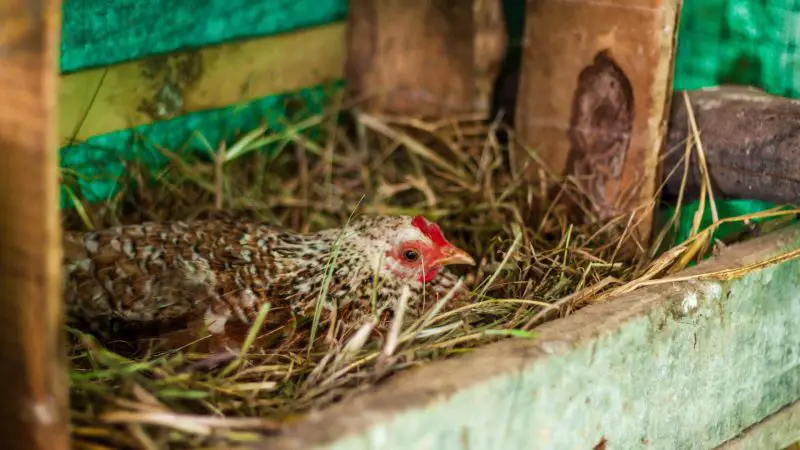 The type of bedding is critical to poultry health. Do not scrimp on quality material. The dollars you think you're saving on cheaper products won't help in the long run because substandard bedding may bring about diseases. The ensuing medical bills won't be cost-effective!
Scientists like Munir et al. say the right kind of bedding material is essential for floor-based poultry production systems. Their 2019 review shows a preference for organic and renewable (plant or wood-based) material over inorganic (sand and clay) because chickens raised on them exhibit better health. 
Fowl also practice their natural behaviors more on wood-based bedding—beneficial in minimizing mobility-related injuries. Organic material also offers numerous environment-friendly disposal alternatives.
Primary Considerations for Choosing Bedding
Here are the primary considerations for choosing the bedding:
The bedding must be absorbent and free of dust because chicken feces is 85% water.
The type of bedding must be suitable for poultry.
It should be a minimum of two inches thick. The thicker, the better.
Use shavings, not mulch or wood chips.
Buy it from reputable pet, farm, or feed stores.
Recommended Chicken Bedding
These are the ones animal husbandry experts recommend:
Hemp—This is the top choice for its porosity, anti-insect properties, ease of cleaning, and natural pesticide. It soaks up moisture quadruples its weight, and has double the absorbency of wood chips, straw, and pine shavings. It also clumps where the waste matter converges, letting you know which portion to discard.
Sale
Happy Trees Premium Hemp Animal Bedding Fiber for Chicken Coop, Horses, Rabbits, Reptiles, Small Pets, Mulch, Soil Amendment, Hempcrete, Grown in Canada-33lb Bale
THE BEST CLUCKING ANIMAL BEDDING - Happy Trees Hemp Fiber is the...
CLEANER, WARMER, HEALTHIER - Hemp bedding is highly absorbent,...
SAVE MONEY - Hemp bedding lasts much longer than traditional...
THE ECO-FRIENDLY CHOICE - Hemp grows FAST, needs very little...
GREEN THUMB GUARANTEE - We're certain Happy Trees Hemp Bedding...
Aspen shavings—Experts say they're more absorbent than pine with no aromatic oil but cost twice as much.
Hardwood shavings and sawdust—It's high in moisture and prone to mold growth if not stored correctly before use.
Pine shavings—Organic and compostable, they are suitable for the deep litter method. These are preferred materials, but they are becoming increasingly expensive, and supply is dwindling. 
No products found.
Mortar sand—Doesn't attract bacteria and has a longer lifespan than shavings but is more expensive and heavier. Its performance is comparable to pine shavings.
Straw—It contains less dust, insulates well, and chickens like scratching in it. However, it's vulnerable to mold, breeds pathogens, and doesn't release moisture well—which means more frequent changes.
Standlee Hay Company Wheat or Barley Chopped Straw for Animal Bedding
Sizing: Our Chopped Straw is chopped into approximately 4"...
Animals Suggested For: Chickens, goats, sheep, rabbits, guinea...
Recommended For: Chicken coops, small animal and livestock...
Landscaping Note: Barley or Wheat seeds may be present and may...
Ingredients: Naturally Sun-Cured Premium Barley or Wheat Straw
Modern poultry breeders recommend the last two, but only if the first four recommendations are unavailable. However, poultry traditionalist and coop pioneer Charles Weeks disagrees. 
In his book, "Egg Farming in California," he extolled the virtues of sand as the only material suitable for coop floors. He said that dry, clean sand doesn't harbor bacteria, is free from dust, and easy to keep clean.
Due to the growth in demand for wood shavings, increase in chicken bedding cost, and possible pollutants from wood products, chicken breeders are now turning to alternative bedding materials, which some poultry keepers use as litter.
Related: Where to Put Chicken Coop? | Information and Facts
Chicken Bedding Materials
Here are the bedding materials also used as litter:
Bark—It absorbs moisture as efficiently as shavings or chips.
Sawdust—It's often used with pine or hardwood shavings.
Crushed corn cobs—They are not readily available and are associated with breast blisters.
Peanut and other nut hulls—They are cheap but susceptible to crusting and also vulnerable to mold. Some crops have been exposed to pesticides.
Shredded processed paper—It makes effective litter material in commercial settings. Large clumps of fecal matter make it cake. Minimize this by placing dressing paper over shavings.
Rice hulls—Competitively priced litter material. Chicks like to eat them, though.
Gypsum—Bedding with gypsum from construction industry waste is economical. But chicken keepers should use it with caution because it has been recently associated with producing deadly gases. 
In addition, these are the unsuitable materials for chicken bedding:
Wood chips—If you have to use them, choose the untreated kind.
Hay—Remnant seed heads draw insects and vermin. Hay also tends to cake.
Mulch—It decreases mud accumulation but is not adequately absorbent.
Cedar shavings—They contain scented oil, a lung irritant.
Other kinds of sand—They attract dust, dangerous to chicken lungs.
Kitchen towels—They are neither cost-effective nor time-saving.
Newsprint—It's slippery and can cause accidents. Print publications are typically printed with petroleum-based inks and toluene. Therefore, newsprint poses health risks.
Other paper products—These attract mold.
Cat litter—Chickens eat it, which can lead to indigestion or death. It also generates lots of dust, hazardous to the respiratory system.
Peat moss—It's very absorbent, doesn't clump easily, and prevents ammonia build-up. But it can accumulate dust, fungi, and bacteria, which may lead to respiratory issues.
The last three attract heaps of dust, so they are not suitable for chicken enclosures.
How to Keep Bedding Out of Chick Water?
Here are some suggestions to keep bedding out of chick water:
Separate drinking areas from sleeping quarters with plastic or wooden walls.
Invest in a water dispenser similar to the kind used in laboratories for mice, but bigger. These contraptions allow animals to drink without spillage.
Use a chick stand to raise waterers.
Hang the drinkers on the brooder's side.
Place water containers on blocks or untreated wooden pieces.
Create a riser from hardware cloth or chicken wire with tiny holes to elevate the waterer. Place a pan under the riser to catch spills.
A readymade alternative to the above contraption is a wire rack shelving unit.
Use a poultry nipple waterer available online. Chicks tap the nipple's edge to release water from the container into their beaks.
List of Sources
Alternative Litter Materials for Growing Poultry
Litter Quality and Broiler Performance
Alternative Litter Material for Poultry