During summer, heat waves are inevitable, which can cause discomfort to your chicken. So, if you have a chicken coop, having fans installed is essential to prevent poor growth and egg production. 
What are the best fans for a chicken coop? Some of the best fans for chicken coop are:
Solar fan 5W 4 inch—Particularly made for chicken coop and powered by a solar panel with 4 holes design.
Coolerguys 10W Solar Powered Dual Fan Kit—Designed for small chicken coops. This has higher airflow and lower noise, making it one of the best cooling solutions for extreme conditions. 
5.2W USB Solar Panel Powered Mini Portable Fan—Powered by a USB solar panel. Its fan speed and efficiency rely on the sun ray's intensity falling on the solar panel.
Furthermore, we'll also give you some tips on buying some of the best chicken coop fans, their types, and things to consider before buying one. 
Types of Ventilation Fans for Coop
If you're not sure as to what type of ventilation fan to use for your coop, here are some of your options:
Solar-Powered Fans
Solar-powered fans are low-powered and lesser in size than AC-powered fans. They accumulate power from the sun's rays and convert them into green power to run the fans.
These fans are a good choice for the outdoors, such as a chicken house, camping, barns, dog houses, greenhouses, and farms.
AC Powered Fans
This type of ventilation fan works on AC power with 110V to 220V. AC-powered fans are usually large due to the size of their powered motor.
These ventilation fans are ideal for large-sized chicken coops, garages, warehouses, or greenhouses. They're mainly made of metal, making them durable and long-lasting.
DC/USB Powered Fans
DC/USB-powered fans run at low power as 12V, and they are comparatively small in size and are used for ventilation in small chicken houses and pet houses.
They can either be solar-powered or battery-powered and can run smoothly with low airflow and very low noise.
Do Chicken Coops Need to Be Vented?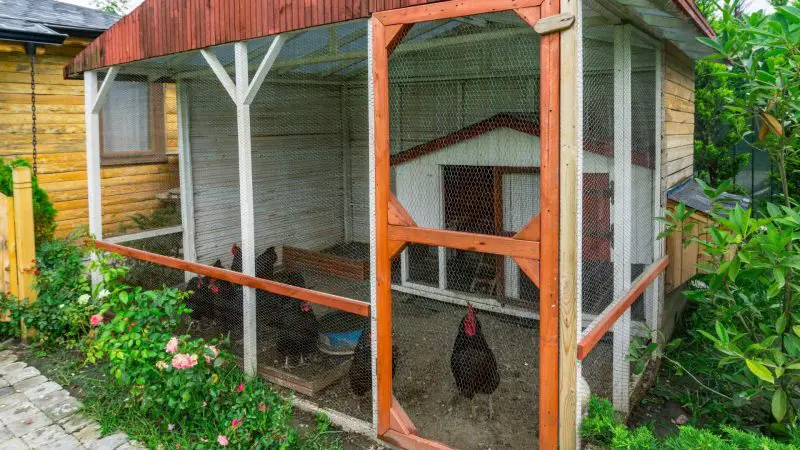 Chicken coops need to be vented to prevent heat build-up, excess moisture, smell, and carbon dioxide. In particular, a chicken coop needs approximately 3-4 square feet of ventilation to allow fresh air in. 
Chickens are good in the cold but will quickly get ill and die if led to live in damp and unventilated conditions.
What to Consider in Choosing a Good Fan for a Chicken Coop?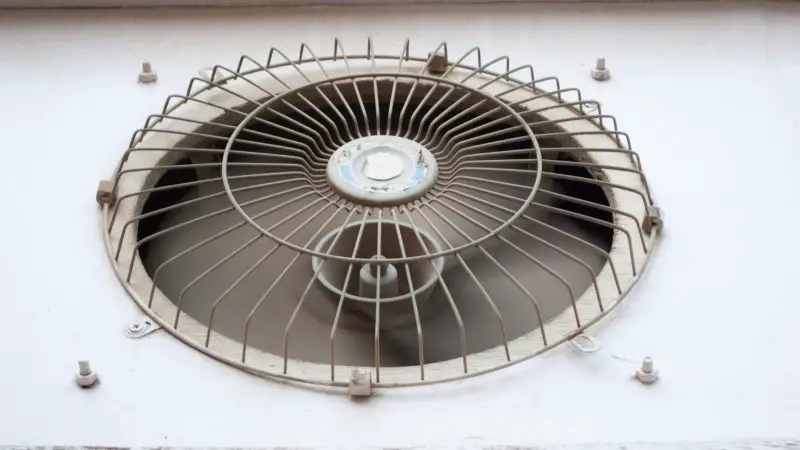 Fans are necessary to maintain a healthy environment for your chickens and the individuals who look after them. This is why it's essential to choose a good fan for your chicken coop. 
To know if you're picking the right fan, any fan that you're considering must be rated by an independent lab. A certified lab operates fans through a series of standardized performance trials to ensure the fans are in their best conditions.
Furthermore, below are other worthwhile considerations that you need to take when buying a good fan:
Air Flow
When aspiring to ventilate and cool your chicken coop, air must be moved at a consistent rate with the size of the coop in mind. A fan only has a little use if it doesn't have sufficient flow to service the square footage comprised under the coop roof.
Correspondingly, a fan that's far overpowered for the coop can quickly become overkill, leading to extremely drafty conditions. This principle of matching a fan's airflow capacities to the coop size starts and ends with a unit's CFM (cubic feet per minute) rating.
As a rule of thumb, the higher the CFM rating of a fan, the more airflow it can facilitate. By evaluating the airflow required to meet your coop needs, you're optimizing your ventilation efforts.
Decibel Rating
A decibel is a measurement unit for calculating the intensity of a distinct sound. This is an essential but frequently neglected matter of consideration when choosing a fan for your chicken coop.
It's of great importance to pick a fan that makes a minimal sound when in operation, as chickens can quickly become stressed. One such aspect is extreme noise. 
Any noise of a decibel level over that which your backyard flock is accustomed to hearing can lead to adverse effects, like poor egg production. 
Weather Resistance
It'll be great if chicken coops are completely weatherproof. However, this is just not the case.
Crumbling exterior boards, dripping roofing materials, and poorly sealed nail and screw holes become common problems. Because of this, there's no way to guarantee that a fan set within a chicken coop will be free of rainwater and condensation.
With this being the case, it's best to use a fan that's resistant to sporadic water exposure. In the lack of resistance, your investment will be short-lived, leading to additional expenses soon when you need replacement.   
Best Chicken Coop Fans
This is a green-powered fan solar ventilator notable for its performance. This 5W solar panel has an updated power design, making it a good investment.
The mini fan works by accumulating power from a solar panel and works perfectly for ventilation purposes in Chicken houses, greenhouses, etc. This works amazingly on summer days by acquiring solar energy.
Nonetheless, it's best to note that the fan efficiency relies on the sun rays' intensity received by the solar panel.
This is one of the best chicken coop fans as it has dual fans and is dust and water-resistant with IP67 technology.
This technology practically protects the fan from sand and dust and allows it to be drenched in water for at least half an hour. On top of that, its blades are designed in a way where they can give more air while having only low noise.
Its dual-bearing motor can last up to 67000 hours, equating to almost seven years, making it a worthy investment. It's also easy to assemble—all you have to do is attach the connectors to the solar panels, and then it's good to go.
This is a solar and USB-powered, mini portable fan for chicken houses and coops. The motor's fan has 5.2 watts, which is very low and could work on any USB devices like power banks and computers.
The speed and efficiency of the fan rely on the intensity of the sun rays that fall on the solar panel. Moreover, it is made from a premium metal frame, ensuring its toughness and long life.
Another great thing about this item is its adjustable support stand, making it stable on any surface type and adjustable angle.
This fan is large-sized, with fast speed and2 blades that can be mounted on a wall. It's an ideal choice for barns, large chicken coops, and garages and is assembled from rugged steel, ensuring its longevity of use.
Furthermore, its motor has a tightly enclosed sealing for protection against dust particles that can cause possible damage and clog. It operates at 120V, with 3500 RPM, and supplies a vast amount of air throw to cover additional areas.
This fan also has a premium feature—the speed regulating 3-speed dial switch used to stable the air throw as needed. On top of that, it's already assembled, so all you have to do is mount it on a wall, and it'll be ready to use.
iLiving is a large, wall-mounted, speed exhaust fan best used for the chicken coop. It's one of the best choices for high population density or large-sized chicken coops.
This exhaust fan is particularly developed to remove excess heat and moisture, keeping your residence safe by controlling mold and allergens.
It's a versatile utilized fan that can be mounted at any part of your homes like the garage, pet house, attic, and chicken coop.
The enclosed, corrosion-resistant motor is thermally insulated and well greased for more extended runs. This investment is worthy of the value of your money as it can last for years due to its high-grade aluminum usage.
This ultimately withstands the corrosion attack on the fan's body and resists heat and moisture for a longer time.
This 10-inch exhaust fan operates smoothly at 120V with 1580RPM and the ability to ventilate an area of more than 600 cubic feet per minute.
AC Infinity Axial 1225 is an exhaust ventilation fan, great for chicken coop usage. It's made for ventilation and cooling of the chicken coop.
Moreover, it's high grade, ensuring its long service life. the good thing about this item is that it has very low noise and smooth airflow. 
It operates on 100 to 125 V AC and consumes low electricity. All you have to do is install it at the coop wall, and your fan is ready to use.
This USB cooling fan is another good option for chicken coops, greenhouses, and pet houses. It's powered by a solar panel and is easy to install. All you have to do is connect the fan and the solar panel's interface, then put it under the sun to start functioning. 
Furthermore, it's portable, so you can easily carry it around. It's also 100% silent, making it an ideal item to install to prevent chickens from the stress of a noisy environment. 
The Ken Brown exhaust fan is another great option as it comes with speed control and it's corrosion-resistant. This item is also perfect to use in removing foul smells, moisture, heat, and dust from the chicken coops.
It also has a much superior air transfer, which operates at 120 volts, 60Hz with 1650 rotations per minute, and can cool and ventilate 1800 cubic feet per minute area. 
This ventilation fan is solar-powered and portable, ideal for clearing foul smells and eradicating heat, moisture, and dust in the chicken coops. This comes with a 5V solar panel with a USB output and can be connected to any USB item for charging. 
However, it's best to note that although the panel is waterproof, the USB port isn't. The solar panel can operate fast under the sun but works slower when the sun is weak.
Another downside of this fan is that it works with solar panels just during the daytime. It's also best to ensure the solar panel is positioned vertically to the sunshine to generate the strongest power.
Tips for Buying the Best Chicken Coop Fans
Ventilation using fans is essential for chickens to make them feel comfortable during the summer heat. It also aids in staying their place dry and removing nasty smells.
Thus, it's best to choose a fan for a coop with the following factors in mind: 
Checking these aspects before purchasing your coop fans will help you get a valuable item that's worthy of your investment. 
Frequently Asked Questions
Can I Spray My Chickens With Water?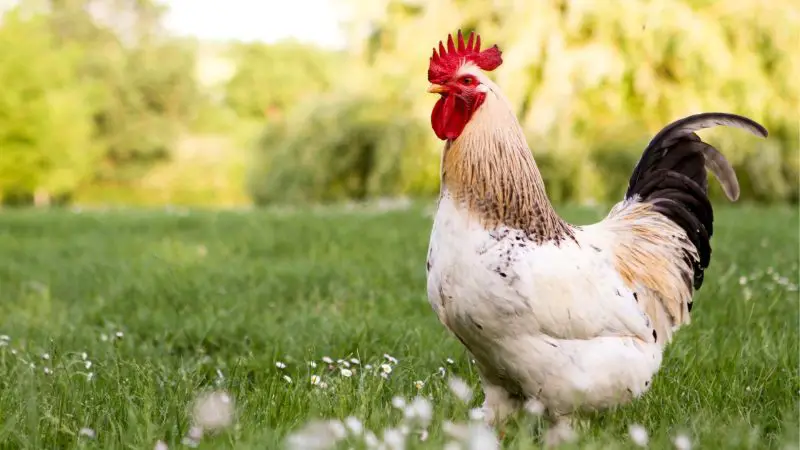 You don't have to spray your chickens, as their body has a natural way to cool themselves. They do this by allowing air to flow into their feathers. If their feathers are sprayed with water, they'll hold more heat rather than release it. 
How Much Venting Does a Chicken Coop Require?
A chicken coop needs approximately 3 to 4 square feet of ventilation and extra ventilation during hot weather. You can typically do this by opening vents, windows, and doors.
Should My Chicken Coop Be Under Direct Sun or Shade?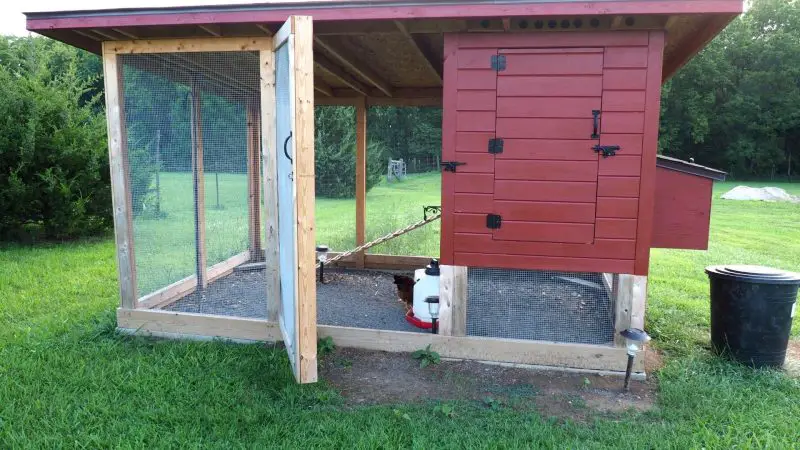 Chickens tend to struggle with the heat quickly. So, it's ideal to have your chicken houses in the shade. In fact, it's much more essential to have a cool coop during summer than a warm coop during winter—that's because chickens can tolerate cold temperatures well.
Summary
The ventilation of your chicken coop is an essential thing to have to maintain the chickens' health and keep an ideal environment for people living nearby. Putting fans is also an auxiliary thing to do to guarantee the ventilation and protection of the environment within.
List of Sources
Fan Selection for Poultry Housing
Natural Ventilation for Infection Control in Health-Care Settings