Animals don't just stay on the farm all the time. For various reasons, they need to be transported to another place. Stock or horse trailer can do the job, but a livestock trailer proves to be more convenient and safer.
Can you rent a livestock trailer? You can rent a livestock trailer. In the United States, the availability of this service began in 1971. But you have to comply with five regulations that are as follow:
A certificate of public necessity and convenience
Attending a hearing for a certificate of public necessity, and convenience
Rent rate regulation
Routes regulation
Requirements of insurance
Livestock trailer rental firms that require insurance are non-regulated. It's according to the scope of the insurance that includes bond, cargo, personal liability, property damage, and non-bodily injury.
Most trailers are rented for long-term lease arrangements. Nonetheless, this service can also be availed for the short-term arrangement.
After you know that you can rent a livestock trailer, it's best to know more about it before proceeding with the necessary process. So, spare some time reading the whole article.
How Much Does the Livestock Rental Cost?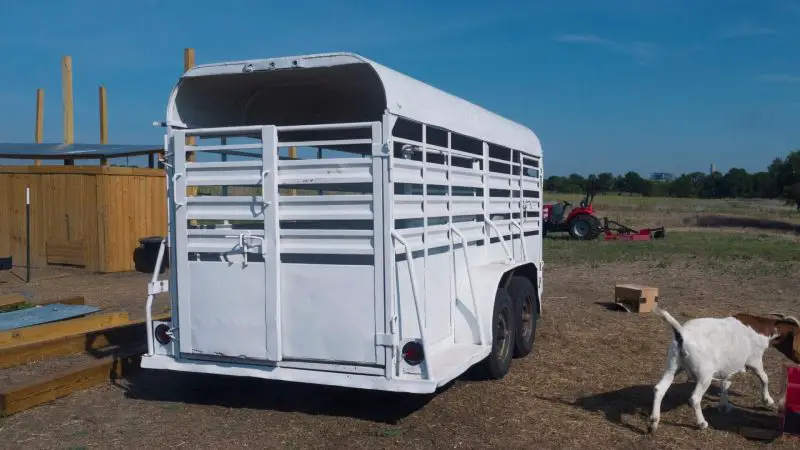 It's impossible to give an exact amount of rental cost for a livestock trailer. However, the following estimations can help you prepare the necessary amount based on your plans and needs to rent.
$1,000 to $1,920 – Per month
The amount charged by a certain firm may vary as other factors affect it.
Location – When the livestock trailer is requested to be delivered to a remote area, expect a charge increase.
The kind of livestock trailer – Regular or luxurious trailer is available, and if you choose the latter, you have to pay more.
Size – For obvious reasons, the size of the trailer affects the charge. If it can only hold a few animals, it won't be as costly as the bigger one that can accommodate a herd.
Model – New models of livestock trailers ask for a higher charge than the older versions.
Can You Put Livestock in an Enclosed Trailer?
You can put livestock in an enclosed trailer depending on the distance that you need to travel. It's fine if you only transport the animals to a nearby place. They need ventilation when traveling far, so an enclosed trailer is not advisable, especially if you do it during the hot season.
How Long Can Cattle Be In a Trailer?
Cattle can be in a trailer for 28 hours. This period includes the time of loading and unloading the animal. It means that the cattle should be on the road for less than 28 hours.
Where Can You Get Livestock Trailers?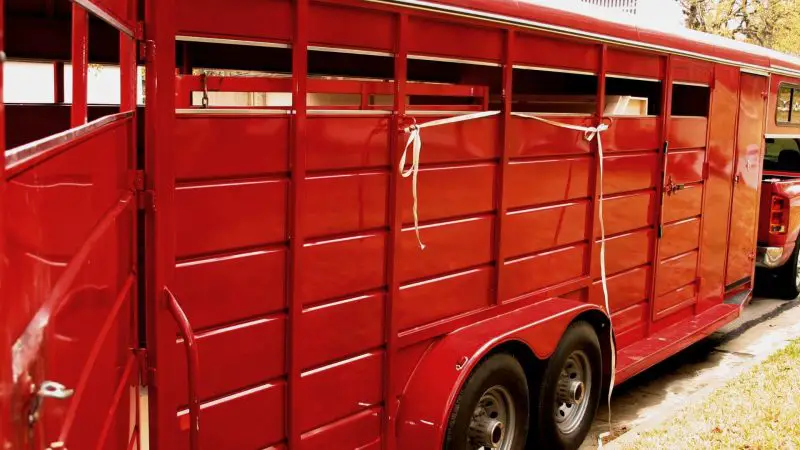 As mentioned, you can rent a livestock trailer for half-day, a day, a week, or a month. You can contact professional dealers and local dealers or livestock trailer manufacturers to avail of the service.
Professional Dealers
A professional dealer guarantees quality service without delays and hidden charges. It won't be difficult to find one as there are hundreds of them. But you'd like to have an agreement with a reputable company like the ones featured here.
Kwipped
Kwipped is known as a trustworthy place that offers livestock trailer rental. It even offers other types of trailers for various needs. Moreover, you can choose from different livestock trailer brands such as Calico, CM, Elite, and Titan.
Small, medium, and large sizes of the trailer are available to cater to everyone's demands. The best part is that the rental charge is affordable.
To sign up an agreement with Kwipped, you have to fill out the e-contract. Aside from the rent charge for a day, week, or month, you have to pay a one-time upfront fee, shipping fee, livestock sales, sale, and property tax, as well as government and assessment charges before getting the trailer.
U Haul Rental Trailer
This is one of the famous companies that provide livestock trailers for DIY movers. It's a family business that has been operating since 1945 all over the USA. The things that livestock keepers like about this company are uncomplicated rental procedures, affordable rates, and luxurious trailer models.
Apart from livestock trailers, you can also rent moving trucks and cargo trucks. Additionally, related supplies like reusable plastic moving boxes and self-storage units are also offered. Before you search for the nearest U Haul branch in your area, you need to be over 16 years old and possess a driver's license issued by the government.
Kennards
This company offers a wide range of services, including a livestock trailer. It works around the clock, so you can depend on them and ask about your concerns any time.
Even though the delivery and pick-up are contactless, no delays will disappoint you. Reservation can be done two or three days before you use the trailer.
Kennards has been in the industry for many years, but its equipment is the latest model. Everyone is free to ask for advice regarding livestock trailer rental before availing of their service.
Flaman Rentals
Livestock farmers have been dependent on Flaman Rentals for livestock trailers since 1993. They're pleased with its exceptional customer service, quality pieces of equipment, and reasonable rates. Almost a hundred branches are all over the US. You don't need to inquire about the rate as it's shown on their website.
Local Dealers or Livestock Trailer Manufacturers
You'll find the cheapest deal in renting a livestock trailer from local dealers or livestock trailer manufacturers. If you connect with them, the job is accomplished in the easiest and fastest way possible.
But there are downsides such as delays, some hidden charges, and old trailer models. After-sale service is not available.
How Much Weight Can a Cattle Trailer Haul?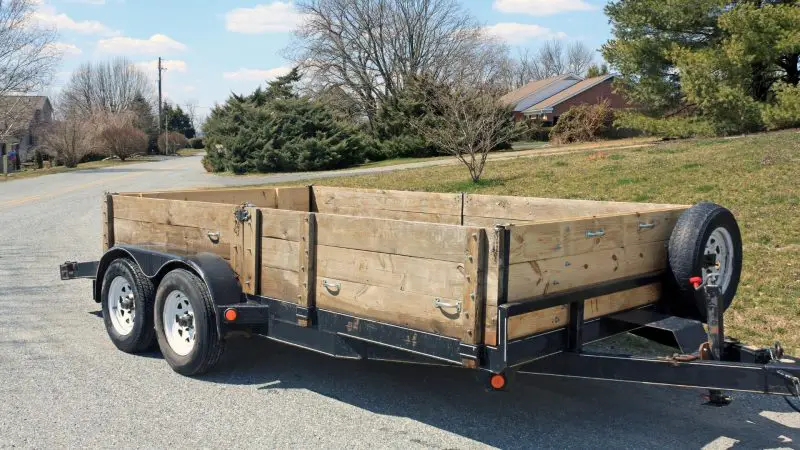 The weight that a cattle trailer can haul depends on the number and type of axles. A trailer with two axles can haul 80,000 pounds, while the one with three axles can bear as much as 89,500 or 90,000 pounds. With the 2,000 pounds extra weight from the third axle of a trailer, it can haul more cattle that are equivalent to 7,500 pounds.
How Many Cows Can You Haul in 24 Foot Trailer?
A 24-foot trailer can haul 28 to 30 cows. The ground load cattle can be unloaded and loaded anywhere.
How Do You Load a Cattle Trailer?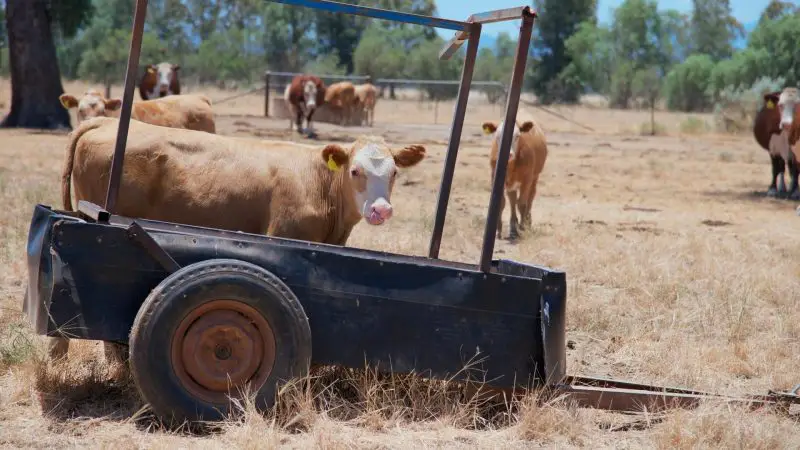 This part is your guide on how to load a cattle trailer. You have to feed and water the cattle and let it take a rest five hours before loading.
Use a run-in with a cattle panel on the front side as a confinement area. Put the bucket of feed to attract and lead the cattle to the run-in.
Next, place the cut-in at the back of the trailer.
Open the door of the run-in to place the bucket at the very end of the trailer. This is for the cows to get into the trailer as they are attracted to snacks.
Watch the cows as they go inside the trailer.
Once all of them are in the trailer, close the door.
How Do You Transport Livestock Without a Trailer?
There are some effective ways of transporting livestock without a trailer, and they are as follows: But be advised that these methods are for a small number of animals.
Ute stock crate – When using this one, you have to make sure that the front side is protected from the gust of the wind. Make sure that you give every animal enough space to sit. No animal must be crushed or stood upon.
Pet carriers – Make bedding for the animal with wood shavings or straw. If you do the transport during cold weather, cover the carrier with a tarp or rug for warmth.
Back seat of car or back of SUV and van – When using this said part of the vehicle, you have to put towels or tarp if ever the animals answer to the call of nature.
Truck's back with canopy – It's necessary to spread a bunch of straw on the floor for this option.
Summary
Can you rent a livestock trailer? You've found out not only the answer to this question. This article has shown you companies where you can rent a livestock trailer too.
Moreover, you also have an idea of how to easily lead your animals into the trailer. You also have to remember the right preparation before transporting your animals and the weight that a livestock trailer can accommodate.
List of Sources
Preparing for Cattle Transport Saves Time, Money and Stress